ANE-KATRINE VON BÜLOW
Born 1952, graduated as a ceramicist from the Royal Danish Academy of Fine Arts, School of Design, the line of Ceramics and Glass in 1980. She then went on to study Sumi-e (Japanese brush-painting) in Japan. From 1983 – 2007, she was a teacher in ceramic decoration and silkscreen print at the same school she graduated from: The Royal Danish Academy of Fine Arts, School of Design.
Her iconic bowls, vases and dishes in black-and-white porcelain featuring variations on the theme of nets and meshes have been celebrated in a number of solo exhibitions such as Everything is black and white in Gallery Nørby, (Copenhagen 2005). The cross-disciplinary duo exhibition 2D into 3D in Officinet (Copenhagen 2009) featured yet another masterly collection of black-and-white silkscreen ornamented porcelain based on photographer Ole Akhøj's inspired photos of leaves and branches.
In 2012, her trend-setting works in concrete were exhibited in a solo exhibition Concrete on the table in Shop for Table Setting followed by two joint exhibitions with fellow artist Anja M. Bache, Ornamental Play 1 in Galleri Oxholm (2013) and Ornamental Play 2 in Officinet (2014).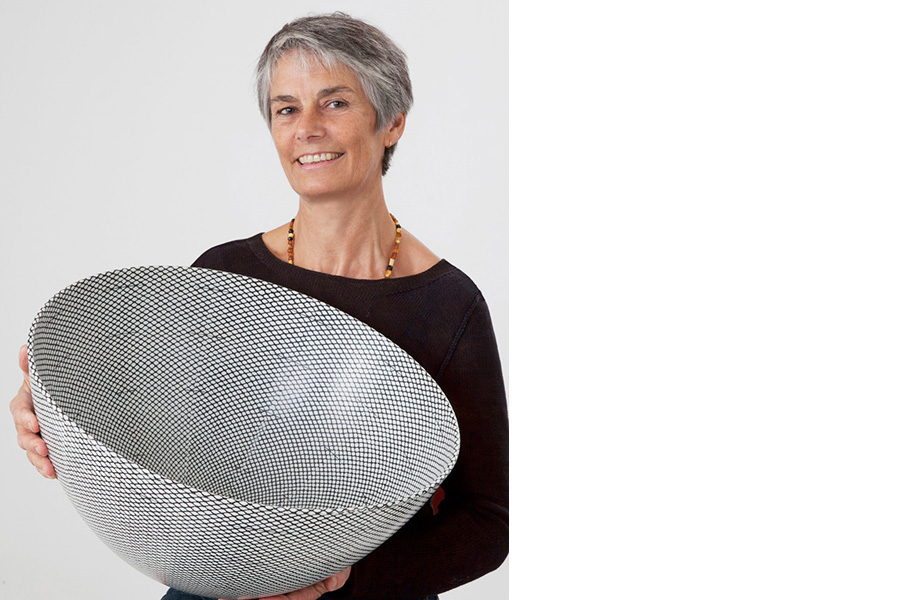 Over the years, the artist participated in several juried group exhibitions such as the Danish Crafts Collection CC09, her collection of bowls "Circles" receiving particular attention when the Best Craftsmanship prize was awarded the Danish group at the International Contemporary Furniture Fair (ICFF) in New York in 2005. Her works were also included in yet another substantial Danish Crafts Collections (2013/14) exhibited at Maison&Objets in Paris as well as in several Danish Artisan and Design Biennials (2007-2009-2011).
In recognition of her talent and skilled craftsmanship, Ane-Katrine von Bülow has received a number of prestigious accolades including the Westerwaldpreis – Ceramics of Europe (Germany 2004), a prize in The International Salt Glaze Competition (Germany 2006) and The Hand Bird (Håndfuglen) from the Danish Arts and Crafts Association in 2010 and again in 2012.
Ane-Katrine von Bülow is a member of the International Academy of Ceramics (IAC) and her works are represented in places like the Cooper Hewitt Smithsonian Design Museum in New York, Designmuseum Danmark in Copenhagen, Höganäs Museum in Sweden, Collection – La Galerie d'Ateliers d'Art de France and Keramikmuseum Westerwald in Germany.
SELECTED EXHIBITIONS 2005-2014
Westerwald Keramikmuseum, "Keramik Europas" 2014/15
Officinet "Ornamental Play 2" with Anja M. Bache, 2014
Danish Crafts Collection 17, 2013/14, Maison&Object, Paris
Galleri Oxholm, "Ornamental Play 1" with Anja M. Bache, 2013
Höganäs Museum "Diversities", with Danish group of ceramicists 2013
Frue Plads "Crafts Fair at Frue Plads" Copenhagen 2012
Shop for Table Setting "Concrete on the table" 2012
Koldinghus, Trapholt, Museum of Modern Art Aalborg, "Artisan and Design Biennial" 2005 – 2007- 2011
Gammelgaard "The world on a dish", group exhibition 2011, Sak 2012
Officinet, "2D to 3D", cross-disciplinary exhibition with photographer Ole Akhøj, 2010
Grimmerhus ," Westerwald, Keramik Europas 2009" 2010
Westerwald Keramikmuseum, "Keramik Europas" 2009
Gallery Ab Ovo, Todi (PG) Italy from 2007 – 2014
Koblenz, "The International Salt Glaze Competition" 2006
ICFF, New York "Danish Crafts Collection nr. 9" 2004/05
Westerwald Keramikmuseum, "Keramik Europas" 2004
SOLO EXHIBITIONS 2010-2014
Galleri Pagter Kolding – Galleri Oxholm Copenhagen – Butik for Borddækning Copenhagen – Kulturarkaden Vordingborg – Ann Linnemann Studie Galleri Copenhagen – Officinet Copenhagen – Galleri Margit Dørflinger Randers – Puls Contemporary Ceramics Bruxelles, Belgium – St. Joseph Galerie, Leeuwarden, the Netherlands – Galleri Jytte Møller Fredericia – Grønbechs gård Hasle – Galleri Nørby Copenhagen